!bgsound src="http://PappasTenant.com/as/heroes.mid"> <!body TEXT="#000080" LINK="#ff0000" VLINK="#800080" BGCOLOR="#ffffff">

Estate Trustees: Statis Voutsas, CPA
Assistant: Georgia Papadopoulas
23rd Street Corridor LLC
PO Box 6600
McLean, VA, 22106 Phone: (703)533-3344
www.eaa-cpa.com
The real estate company continues its harassment and mistreatment of tenants
Kicked elderly lady (69), disabled, out of the house, after harassing her with phone calls, false police reports, and poor service.
Took her things, including antique chairs,
---
Support Bob Stone: Pappas trying to put good, elderly tenant on the street
in landlord retaliation for reporting Housing Code violations
UPDATE: Sadly, Bob Stone passed away, in part, due to all the stress Pappas caused him
The Pappas Tenant Association is a group of present and past tenants of the Louis Pappas Real Estate Trust Corporation, most of whom live or work in the Crystal City / Arlington, VA area. It was founded in 1994. This World Wide Web page serves as a forum for discussion and information concerning issues related to the rental of property from the Pappas Trust. The PTA seeks to prevent conflict before it arises, and facilitate smooth and peaceful resolution of issues between the tenants and management.
Now prospective tenants at least have the opportunity to search Yahoo for the landlord's name, see what experiences others have had, and decide if they want to sign a lease. No longer can landlords get away with not returning security deposits, thinking no one will know about it. It is a New Age - of the Internet, and easy access to knowledge.
Postings on this site are protected by the First Amendment in the Bill of Rights of the United States Constitution


Virginia Law § 55-248.50 (Retaliatory conduct prohibited) safeguards citizens from retaliatory action from the landlord for participating in tenant associations, filing housing code or zoning complaints.
The Virginia Legislature has enacted fair Landlord Tenant Laws, but the Judiciary repeatedly fails to enforce them, or interprets them in the favor of landlords, allowing horrible abuses of tenants' civil rights.

Louis Pappas, Pappas Real Estate Trust Company
Inheritor of his mother's millions in real estate


Group and Online Meetings

Support From Present and Former Tenants

You Are Not Alone
preparing for Small Claims or Landlord Tenant Court
"You know what the Golden Rule is - Those with the Gold make the Rules."
"Tenants can have any house improvements they want - and can afford."
"Our tax system is great, especially the real estate deductions."
"Who will the police believe, me

(rich landlord)

or you?

(tentant)

"
"Old Age and Treachery Will Overcome Youth and Skill"
"I'm not a full time landlord."

- under oath

The Honorable Judge Karen Henenberg
of the Arlington District Court
orders Pappas to return $1275 in security deposits
he attempted to keep, back to two young lady tenants


Pappas claims Exemption to
Virginia Landlord Tenant Laws
and Housing Codes under Oath

§§ 36-86. through 36-96
"this chapter shall not apply to any single-family house sold or rented by an owner, provided that such private individual does not own more than three single-family houses at any one time"

Pappas owns more than 3
such residential properties and
conceals them as "commercial"

Another deposit was not returned as promised - even for months after tenant moved out. A landlord should simply send the security deposit to the tenant within a week of the move out date.

But the tenant had to make repeated requests and start pursuing legal action to get his promised funds. This was difficult as he had moved over 1000 miles away. The time and trouble to get his funds was more than the deposit itself.

This is often the case, when tenants cannot afford the funds or time off from work to pursue justice. Meanwhile, landlords have the luxury of time, money, and may even purchase special considerations.

Pappas has taken up hundreds of hours and thousands in public funds from the Arlington Commonwealth Attorney and Police Departments for serving his tenant matters rather than the Public.

Pappas made unfounded accusations and false statements under oath. These accusations did not stand up in court. Pappas offered no physical evidence, and only his inconsistent testimonies. A Jury quickly saw through his baloney.

But Pappas took precious resources away from the War on Terrorism, unsolved murders (click) and finding missing persons.

Should millionaire Pappas reimburse the Commonwealth of Virginia taxpayers for the cost of his false accusations?
See: PappasPerjury.com

Would Pappas get such special attention if he was a pauper?
EQUAL JUSTICE UNDER THE LAW ?

From 1990-1993, the properties at 505 24th Street and 2320 South Eads next door provided meeting rooms for a Transcendental Meditation Center, a nonprofit educational organization dedicated to world peace.

The couple that managed the Center were were ideal tenants, Mr. & Mrs. Gary Inman. They naturally fulfilled all tenant responsibilities, generously made improvements at their own expense, and left the house in perfect condition.

Nevertheless, in 1993 Pappas refused to return the $1000 security deposit to the TM Center. In the interests of peace, they transcended the issue. They did not pursue legal action, or any action on the surface of life, leaving Pappas to the universal Law of Karma.

[AD]
2320 South Eads Street, Arlington VA
former TM Group Program Facility,
headquarters for the Natural Law Party of Northern Virginia

Fire at 2320 South Eads
What happened May 25, 1997?


Pappas' handy man Marvin had been advising him for years from 1994 - 1997 to fix electrical wiring at 2320 South Eads.


Pappas' negligence finally leads to a fire in May 25, 1997.

Pappas knowingly withheld this information (and Marvin's existence) from Fire Investigator Kenneth Kent; an Officer of the Law

When the Inspector asks Pappas "Do you know what might have caused this fire?" he is not supposed to send him on a wild goose chase

Pappas tried to blame the fire on the homeless men that Shaddock was hiring for yard work.

Pappas seeks maximum payment from Fire Insurance Company for repair of his house, by avoiding being seen at fault for the fire.

Illegal Parking Lot Operation
Against Arlington County Zoning Board's orders

TenantsAreNotTrespassers.Org


Please sign our
Petition for Judicial Review
Tenants Are Not Trespassers

Bring Common Sense
to the Commonwealth

Pappas Tenants speak at Arlington County Zoning Hearing
televised on Arlington Cable TV
regarding rezoning of Pappas properties
from Residential to Commercial.


Louis Pappas attempts to rezone house commercial
to justify increase in rent


Pappas Tenant Association founder Shaddock reported
Pappas' history of noncompliance with zoning regulations

Pappas' Secret "Safe House"

Pappas proudly tells many that one of his houses was
seen by millions in the 1987 movie NO WAY OUT.
But he keeps it secret from the Judge,
claiming he is "not a full time landlord", and
therefore exempt from Virginia Housing Code Regulations
for providing proper living conditions to tenants

www.youtube.com/watch?v=aRa07k7Kb_A#t=2m45s


YouTube video of the movie "No Way Out"
showing one of Pappas' rental properties
playing the role of the "Russian spy house."

After the tenants graciously allowed their home to be used by the movie crew and Kevin Costner for the film, free of charge, Pappas declared the house to be more valuable, and raised their rent!

Pappas Discriminates against
Blacks and Hispanics in violation of
Virginia Law § 36-96.3
Unlawful discriminatory housing practices.


PENALTY: A landlord who willfully fails or refuses to pay the interest on deposit as required by law can be held liable in court for an amount equal to the deposit itself, plus court costs and attorney fees.
Louie's Corner. This web site is not one-sided, and everyone is entitled to freedom of speech and posting on the web, including Louis Pappas. The PTA seeks to enliven the highest ideals of democracy. He has acknowledged receipt of a self-addressed stamped envelope in which to put his versions or opinions of anything on this site, or to attach a note of explanation to anything he or his attorneys feel are inaccurate. Any responses or rebuttals of his are posted verbatim at Louie's Corner. Changes to all pages are open for discussion, given the presentation of evidence and corroboratory testimony.
Or write: Webmaster@PappasTenant.com
Petition to Charge Lying Louis Pappas for Perjury
Call the Commonwealth Attorney Office at 703-228-4410
Remind Hon. Richard Trodden that the rich are not exempt from the law
and our Justice System is not to be used as a means for landlord retaliation.

For help or more information: (Your name will be held in the strictest confidence.)
Monthly Meetings Online

First Sunday of every month at 2:00 pm
Click for DEMO
To be added to conference call, email to Meeting@PappasTenant.com for login and password
Pappas Tenant Association
P.O. Box 100411
Arlington, VA 22201
Association's shared P.O. Box - Be sure to include member in address
Email: info@PappasTenant.com
Complain to the
Better Business Bureau


Check out your landlord before you lease
RapSheets.com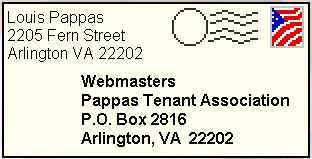 Louis Pappas has full rights to respond with rebuttals
"If a nation expects to be ignorant and free it expects what never was and never will be ...
The people cannot be safe without information.
Where the press is free, and every man is able (and willing) to read, all is safe."

Thomas Jefferson

"All that is necessary for the triumph of evil is that good men do nothing."

Edmund Burke

"We will not only defend ourselves to the uttermost,
but will make it very certain
that this form of treachery
shall never again endanger us."

Franklin D. Roosevelt December 8, 1941

"We will not only defend our rights to the uttermost,
but will make it very certain, that this form or landlord treachery
(stolen security deposits, false trespassing accusation, false claims of exemption)
shall never again endanger any tenant."

Frederick Shaddock, Pappas Tenant Association

Get Our Constitutional Liberties Back
Vote For Ron Paul
Legal Aid: 703-778-6800 Mr. Bennett Downey
---
Attorneys: DemskyLaw.com, John Hurd

Webmasters: Matthew D., WebJustice.org
Mark H., Ginny B., Marci S., Jamar, Gerard P.
Founder: Rick S., Tenant Oct 1993-Oct 1997
Gloria McGee
Music: "Heroes" by Mariah Carey